WHAT MAKES A QUALITY NATURAL STONE VENEER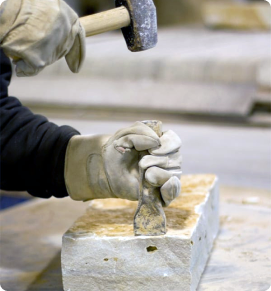 HARDNESS AND WATER ABSORPTION
The first thing that needs to be considered is the stone's hardness and water absorption. If the stone absorbs too much water and freezes, the pieces will crack and eventually fall apart. Our natural stone veneers at the Quarry Mill are all high density, have low water absorption and are architecturally approved for all applications.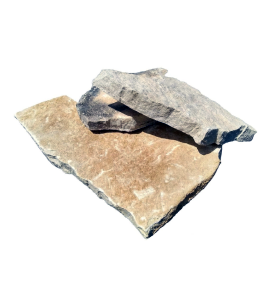 TOLERANCES
Quality comes downs to how tight the production tolerances are. As expected the tighter the tolerances the more time required and the more waste produced. A product like Castle Ridge calls for rectangular stone pieces split using a hydraulic press on four sides. At the Quarry Mill we pride ourselves on quality. We cut Castle Ridge on all four sides, whereas some of our competitors only split the top and bottom leaving uneven sides. Uneven sides create trapezoid shapes which force the mason to clean up the stone on site leading to more waste and labor cost.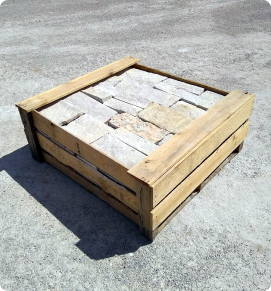 CONSISTENCY
Consistent thickness is also very important. Picture a piece of stone that is 1.25" thick on one end but tapers to 0.25" thick on the other end. This actually happens and is called a knife edge. Cut rate stones will include this type of product. Each of our natural stone veneers is cut from a full thickness piece of stone with a diamond saw; the full depth building stone is initially roughly four inches thick and a one inch piece of natural stone veneer will be cut off each side. That leaves a piece of waste or slug in the middle and although it may sound inefficient the starting piece of building stone is never perfectly 4" thick nor consistent throughout. . Having this slug allows our natural stone veneer pieces to always have the a consistent thickness throughout. Some companies will try to only cut raw stones that are 2.5"-3" thick in half to reduce waste and maximize profit but the quality suffers. The slugs we end up with are eventually crushed and used as DOT approved highway gravel so nothing goes to waste. Check out the Our Process page to see how it is done.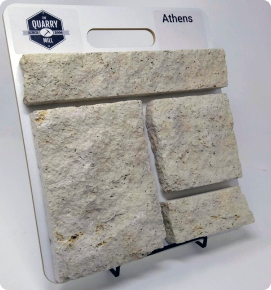 WE TAKE PRIDE IN OUR PRODUCT
While there will always be variances in color and texture as it is natural stone, we take pride in our consistency. By ordering a sample board, you will get a hands-on representation of our stone. We have no dealers, no showrooms, no smooth salesmen just a great quality product and straightforward approach. We are proud of the quality products we produce and ship to our customers. You are always welcome to come see our main production facility and the products quarried on-site in beautiful Door County, Wisconsin.