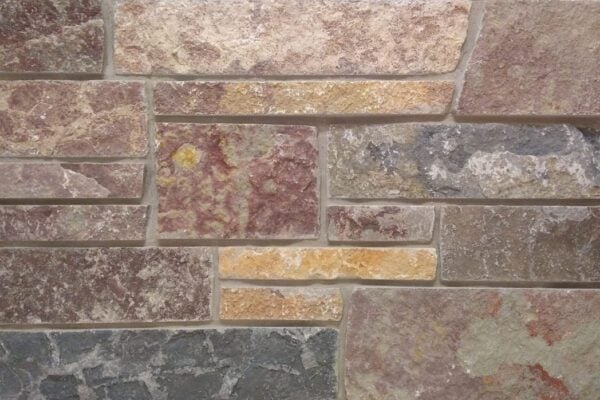 Ambrose Natural Thin Stone Veneer
Free Shipping
Made in the USA
"The high quality thin veneer from The Quarry Mill has reduced our installation time."
Ambrose Best Uses
Ambrose natural stone veneer is very popular as whole-house residential siding. The earthy tones can bring a fresh, summertime feel to your project. Add a professional touch by blending the stone with other siding elements or use Ambrose for your entire project. It also goes well with any exterior elements on your property. Ambrose works well on smaller exterior projects that can create symmetry around your house. Use this stone to accent porch columns, mailboxes, light posts and small exterior walls.
Mortar Options
Installing Ambrose stones with light gray grout will enhance the individual stones. Darker and lighter grouts will accent the various shades of browns or tans in this natural stone veneer. The rectangular, random colored stones will add a little contrast to your project. The squared ends will help with planning, layout and installation by making it a quick process. The 1-inch thick stones weigh less than full thickness veneers or stones, making them easier and safer to handle. Ambrose stones can also be cut to wrap corners in your project because the colors and textures are consistent all the way through the stone. This stone is also shipped in loose pieces instead of sheets to make project planning and installation faster.
Similar Products by Style
Similar Products by Color