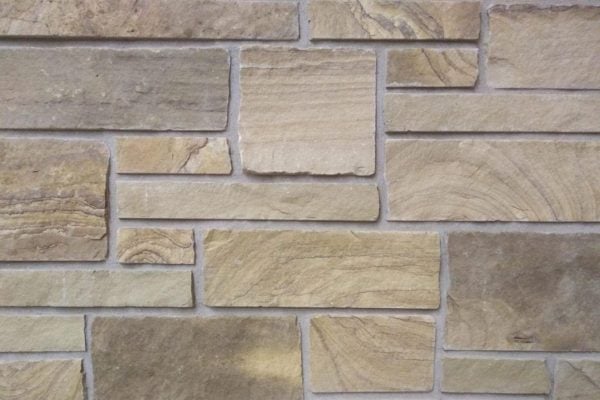 Brentwood Dimensional Natural Thin Stone Veneer
Free Shipping
Made in the USA
"The high quality thin veneer from The Quarry Mill has reduced our installation time."
BRENTWOOD DIMENSIONAL BEST USES
Brentwood Dimensional natural stone veneer is often used to cover an accent wall, sometimes around a fireplace. The wood-like grain compliments fireplaces and inset electric heaters alike. Modern electronics will stand out on a wall of this stone. If installed with lighter grout, your project will brighten a room. Darker grout will make the stones in your project appear more natural. As an accent wall, this stone will create a conversation piece in any room.
MORTAR OPTIONS
Installed with a dark grout, Brentwood Dimensional stones will stand out as individual stones. This natural stone veneer is a fuller, more formal option than the Brentwood stone. It will add elegance and prestige to your stone project with its rectangular, wood-like stones. Planning, layout, and installation will also be faster and easier with the variety of stone shapes and their squared ends. Wrapping your project's corners is also quick and simple since cutting the Brentwood Dimensional stones will reveal a similar pattern and texture consistent in each stone. This stone is also shipped in loose pieces instead of sheets to help make planning and installation a quick process.
Similar Products by Style
Similar Products by Color