Home / Shop / Rhinelander Natural Thin Stone Veneer
Rhinelander Natural Thin Stone Veneer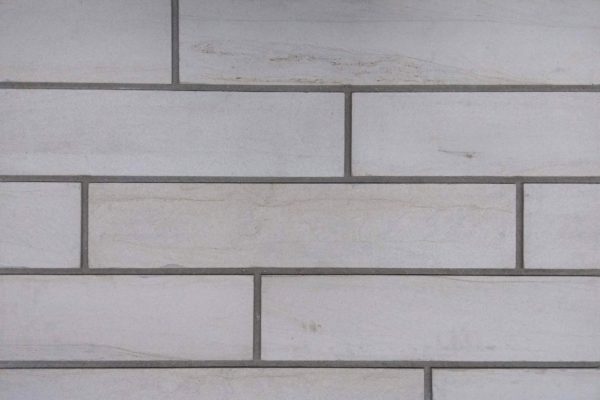 Rhinelander is a natural stone veneer sawn into consistent 6" x 30" panels.  The larger pieces of stone are white/light grey and have a sandblasted face.  The sandblasted finish gives them just a hint of texture as the pieces are otherwise flat and consistent.  Each panel of stone has been sawn on all six sides making perfectly clean and squared edges on the pieces.  Rhinelander is installed in a running bond or course height pattern meaning you can make out each row or "course" of stone. This installation style is similar to how brick is installed.  Rhinelander is a great choice for large commercial projects as the stone installs quickly and easily. This is a premium quality imported product.​
NOTE: 90-degree corners are not available, on the corners overlap and interlock the flat pieces.
Style: Dimensional
Color: Natural Tones
Finish: Natural
Stone Type: Sandstone
Approved for all applications due to the high compressive strength and low water absorption of the stone.
Type: Individual Pieces of Stone
Method: Pallet Shipped
Lead Time: Approximately 2 weeks
Minimum Order: 300 Square Feet

Delivery:
The freight company will call in advance to schedule a delivery appointment. A forklift or skid-steer with pallet forks is required on-site at time of delivery.

Shipping:
Free shipping on orders over $8,000. $500 flat rate shipping on orders less than $8,000. Quarry Mill ships anywhere in the USA with standard access.
Rhinelander Flats
Heights: 6"
Lengths: 4" - 16"
Depths: ¾" - 1-½"
Weight: 13 - 15 lb. per square foot
Error Retrieving Related. Please try again.
No posts found
Error Retrieving Related Products. Please try again.
No posts found